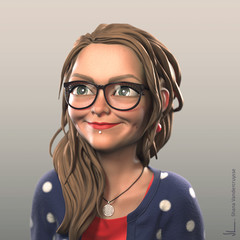 Shana Vandercruysse
Freelance Character Artist
Berlin, Germany
Summary
I've been a Freelance Character artist for over a year now and got to work on varying projects, from toy design to classical sculptures and realtime game art. My main game is creating the models from A to Z, but if needed I can provide rigs and animations as cherry on top.
As a work-for-hire I treat the wishes, needs and concerns of my clients with great respect and try to help out where I can. Besides that I take great pride in being a perfectionist. I dot the i's and cross the t's ;)
Before going freelance I was a teacher at Belgium's Game art university DAE where I was leading the character art programs among other responsibilities.
If you think I would be a good match for your project, don't hesitate to get in touch! Or if you want to see me at work, come say hi at one of my streams on Twitch :)
Skills
Realtime game art
Digital Sculpting
Character Modeling
Facial Rigging & Animation
Facial expressions
Anatomy
PBR Texturing
Software proficiency
Productions
Video Game

Fortnite

Year

2017

Role

Character artist

Company

Airborn - Epic

Video Game

Divinity 1 - Original Sin

Year

2014

Role

Character artist, Rigging, Environment animator, character/creature animator,

Company

Larian Studios
Experience
Freelance Character Artist at Airborn Studios

Berlin, Germany

Through Airborn studios I've been able to work on a handful of heads for the characters in Fortnite by Epic. Can't wait to add them to my portfolio!

Freelance Character Artist at GlobeTrade

Kortrijk, Belgium

GlobeTrade provides me with the awesome opportunity to sculpt and design toys and figurines for them! They work for many big licenses but unfortunately I can't show any of the work I did for them yet...

3D arts Lector at Howest University - Digital Arts and Entertainment

Kortrijk, Belgium

September 2012 - September 2016

Digital Arts and Entertainment (DAE) is one of the worlds best Game Art schools, located in Belgium. I was a teacher, community manager and study coach here for a couple of years; leading the Character art programs (3D basics, Zbrush and Rigging), organizing events and party's and taking care of the well being of my students. I quit in 2016 because I wanted to orient my career more towards production.